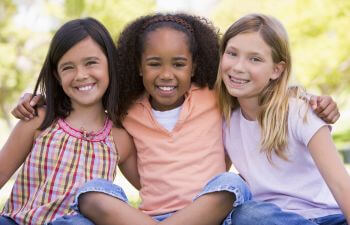 When you think of high-end wigs, you probably imagine adults wearing them. However, there are actually children as young as six who wear wigs and cranial prostheses on a regular basis.
Hair loss can be devastating for people of any age or gender, but it can be particularly challenging for kids, tweens, and teens. Most children and teens who wear wigs do so because of medical conditions that have caused hair loss, rather than for fashion reasons.
When people see a child with hair loss, their first instinct is often to ask if the child is fighting cancer. While it's true that many cancer treatments can cause hair loss, there are also numerous other medical conditions that can lead to hair loss. Conditions like alopecia areata, an autoimmune disorder that causes large patches of hair loss, or traction alopecia, which occurs due to prolonged use of tight hairstyles. Regardless of the cause, hair loss can be a sensitive topic for kids to discuss.
How You Introduce Wigs to Children Matters
Introducing a wig can help put an end to the prying questions, but a good wig can do so much more for a child in need. During a time when they are trying to figure out their place in the world and the image they want to project, they are also dealing with a devastating loss that can greatly impact their self-esteem and body image. Therefore, it's crucial to introduce the idea of wearing a wig in a way that makes them feel comfortable. For many kids, this means finding a style and color that closely matches their own hair. For others, a new look can bring some excitement to an otherwise somber situation.
Once the idea of wearing a wig is accepted, it's time to find the perfect fit. Wigs often have a reputation for being hot and itchy, which kids tend to reject. That's why the quality of the wig and cap is so important; it needs to be lightweight, provide scalp protection from the sun, and feel comfortable and natural.
Remember, your child will be the one wearing the wig, so it's crucial that they feel confident and comfortable in it. It's important to give your child a sense of control over their body, especially when they may be concerned about their health and well-being. Involve your child in the selection process by allowing them to choose the color, length, or style that they feel most comfortable with.
Helping Your Child Get Accustomed to Wigs for Kids
If your child still has some hair remaining on their scalp, it's important to protect it as much as possible. The remaining hair can be loosely braided to fit under the wig smoothly, and a wig cap can provide an extra layer of protection against scalp irritation and potential damage to the existing hair.
Caring for a wig is different from caring for natural hair, but human hair wigs can be washed, dried, and styled just like real hair. With time and support from a trusted adult, wigs for kids can make a real difference in terms of self-image and confidence.
When children need wigs, it's crucial to ensure that the quality is as high as possible. For kids with medical conditions, a cranial prosthesis wig may even be covered by health insurance.
Shuly Wigs offers some of the most natural-looking, high-quality wigs in the NYC area for both adults and children, including styles for boys and girls. If your child needs a wig, let the experts at Shuly Wigs help you find the perfect fit.

Introducing wigs for kids is a huge responsibility and should be well researched and thought out before deciding to do so. It is essential to understand the needs of the child, the reasons behind them wearing a wig and how to best care for it.
At first glance, introducing a wig to a child may seem like a simple task. From finding the right style to helping them care for it, the whole process should be handled with care and understanding. It is important to take your time and introduce the idea in age-appropriate language.
When it comes to finding the right style and type of wig, there are several options to choose from. Synthetic wigs provide a lightweight, low maintenance look that children tend to respond well to. Human hairs are a great choice for a more realistic look and provide for a wider variety of styling options. Regardless of which type of wig material is chosen, make sure that it complements the child's natural look and hair colour.
Wearing a wig also comes with a few tips to ensure its longevity and appearance. Properly maintaining a wig involves using shampoo and conditioner specific to the type of wig being worn. It is essential to avoid manipulating the hairline using heat tools as this can cause damage. Additionally, avoid using any aggressive brushing techniques on the wig as this can irritate the skin.
Finally, the most important part of ensuring that a wig is given proper care is to teach the child how to care for it themselves. This includes proper brushing techniques and making sure to respect the hairline. It is also recommended to practice new wig styles on an old wig before exposing a new one to the styling techniques.
Introducing wigs for kids should be done with care and compassion and should not be taken lightly. By understanding the needs of the child, the type of wig material, and the necessary care and styling, parents can ensure that their child is comfortable and confident in their wig.