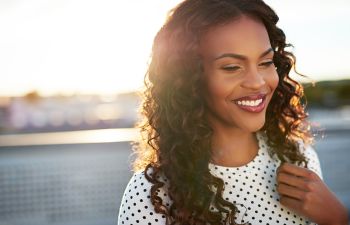 It is easy to fall into a fashion rut, especially when it comes to your hairstyle. You get used to a certain look and it becomes your default. Every day, the same style. After a while, even considering change can give you shivers. Changing things up every now and then also has merit; but change can be scary, even when it is only the way in which you wear your hair.
Attempting a New Look
Thankfully, change is less scary when you know you have options. When you know the change you are contemplating is not necessarily permanent, you can move forward with less trepidation. Shuly Wigs allows you the opportunity to play with hairstyles and experiment before and, for some, instead of making a commitment to change.
Women with longer hair may want to try a shorter look. You could cut your hair, but suppose after cutting it, you find you prefer longer styles? With a Shuly wig, you do not have to choose between one or the other. Try the shorter look for a while and see if you like it. If this look does not appeal to you, change it up and try something different. You can still go back to your default style.
Wigs make it easy to experiment with hair styles and color. Shuly has plenty of both so you can sport a new look any time you please. We have a wide selection of lengths, styles and colors from which to choose. This gives you the opportunity to experiment until you discover the look you find most appealing.
Experiment with Color
Wigs also give you the option of experimenting with color without damaging your own hair. You can go lighter or darker; platinum blonde to jet black and any color in between. Suppose you want to change color, but you have no idea what will work well with your skin tone. Our stylists are trained to help you find your perfect match. We help you discover the hidden beauty within, and we bring it out in styles and colors that suit you best. You have yet to see how good you can look.
Look Younger and More Vibrant
As you get older, you may notice your hair is beginning to get thinner. Perhaps you are already trying to find a hairstyle that minimizes the appearance of sparse locks. A Shuly wig can restore a more youthful appearance. Our stylists will work with you to create a look that is natural and beautiful. No one needs to know you are wearing a wig when our stylist helps you choose the look that brings out your best.
Sometimes a wig can look very artificial, leaving no question that the woman is wearing a wig. There are styles that work and some that do not. We help you find the style that works. When you come into our salon, our goal is to provide you with a wig that compliments your personality, lifestyle and appearance. You leave looking naturally beautiful.
A Comfortable Change
Wearing a wig for the first time will feel different. Shuly Wigs provides a variety of nets so your comfort is assured. We find the net that works for your head as well as the style that works for your face. Our expert craftsmanship, along with the expertise of our stylists, gives you a look that is comfortable, beautiful and easy to maintain.
Shuly Wigs makes it easy for you to change your look and feel good about it. Contact us today and schedule an appointment to discover the difference a Shuly can make.