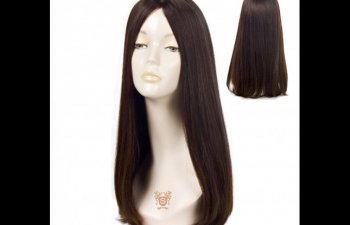 Your wig has a small but significant feature that makes all the difference in how it fits. Ear tabs are the little wings on the sides of the wig that lay in front of your ears near your temple. Hardly noticeable, they are a vital part of wig construction that is important in a well-fitting wig.
Types of Ear Tabs
There are a variety of ear tabs, each with its specific purpose to provide comfort for you while wearing your wig. Small pieces of either metal or plastic are in the tabs to help your wig hug your head at the side. These are called stays.These little devices are similar to the stays in shirt collars that keep the points straight and the collar down.
In holding the wig close to the sides of your head, ear tabs not only provide an easy way for you to make sure your wig is on straight, they also give your wig a more natural look. Ear tabs can be open or closed; some are lined with velvet while others are silicon lined.
Many individuals wear glasses. Whether for fashion or out of necessity, wearing glasses and a wig can be tricky. The bows of your glasses tuck behind your ears so for the most comfortable fit, your wig needs to be constructed in a way to accommodate them. Open ear tabs allow you to thread the bows of the glasses through. It is important to make sure you can do this without forcing them. Delicate bows can become damaged or break if they are forced into a tab. Open weft caps are also an option for people who wear glasses.
Some people experience itching at their temples while wearing a wig. Just as clothing tags can irritate the area on the back of your neck, ear tabs could irritate the area in front of your ears. This can be eliminated with velvet-lined ear tabs. The lining makes the ear tab smooth and soft against your head.
The Aesthetic Function of Ear Tabs
No one wants to wear a wig that looks like a wig. At Shuly Wigs, we help you find the right wig for your features and lifestyle and we style it to look like your real hair. Ear tabs also help your wig look more natural. Ideally, the edge of the wig will realistically mimic your hairline and ear tabs give the appearance of natural sideburns.
It is important that the ear tabs sit nice and snug against your head. The last thing you need is for these little side pieces to stick up like wings on either side of your face.
A Word About Metal Stays
If you travel frequently, you may have concerns about metal stays in the ear tabs. According to TSA, there is a chance that the metal in any hairpiece may be detected by the full-body metal scanner. If the metal triggers the alarm, you will need to go through a pat-down. The officer will explain to you how he or she is going to proceed. Let the officer know about the metal in your hairpiece. The officer may still need to pat down your hair.
Another concern with metal in the ear tabs has to do with health scans like an MRI. Let the technician know and he or she will advise you on whether or not you need to remove your wig for the scan.
Get a Beautifully Natural Look
Since you are taking the time to get a high-quality wig, let one of our stylists help you get the perfect one for you. We know what goes into getting that beautiful, natural look. We also know how to ensure you choose the wig that feels most comfortable and suits your lifestyle. Contact us today for more information.