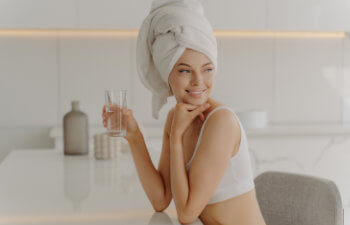 Are you tired of the same old hairstyle? With high-end wigs, you can experiment with a wide variety of hairstyles, whether you want low-maintenance styling or need a wig due to hair loss. But while it's great to change up your look, it's important to take care of your scalp while wearing wigs, especially if you're working to reverse hair loss.
Why Scalp Care is So Important for Wig Wearers
Wearing a wig can sometimes cause irritation to your scalp, especially if the fit isn't quite right or you're not taking the time to care for your scalp. While a wig provides some UV protection for your scalp with the right wig cap, on warm days, your scalp can sweat under the wig and cap.
Hair grows from individual follicles on the scalp, which also produce an oily substance called sebum. Whether follicles produce hair or not, they still produce sebum. Over time, sebum can interfere with hair growth, which is particularly important for people wearing wigs due to reversible hair loss. You want to protect your natural hair as it recovers, and scalp care is an integral part of that process.
When your high-end wig fits properly and is well-constructed, it allows for good airflow, minimizing sweating and overheating. Most discomfort experienced while wearing a wig is also minimized with a higher-quality product, but not if your scalp is irritated and inflamed.
Scalp Care Basics for a New Wig
Whether you're getting your very first high-end wig or your fiftieth, it's important to keep scalp care in mind every time you invest in a new wig.
Keep Your Scalp Clean and Hydrated – Just like the skin on your face and the rest of your body, your scalp needs careful treatment. Use shampoo or a specialized scalp cleanser to cleanse your scalp and any natural hair. Don't forget to hydrate with moisturizer or skin-safe oils to prevent dryness, which can cause itchiness and discomfort with or without a wig.
Treat Yourself to a Mini Spa Day – You don't need a reason to invest in self-care. Give your scalp a great massage to stimulate blood flow, promote new growth, and reduce stress and irritation.
Be Picky About Wig Selection and Wig Care – The quality of your wig plays a significant role in scalp health. A high-quality wig can protect your scalp, while a poorly made wig can damage it. Keep your wig clean to prevent the buildup of sebum, skin cells, sweat, and environmental contaminants like smoke, dirt, and air pollution.
How the Right Wig Can Improve Scalp Health
Wigs are often worn as protective styles while natural hair regrows. It's important to find a wig that is beautiful, natural-looking, and helps protect your scalp. At Shuly Wigs, our experts can help you find the perfect wig to boost your confidence, comfort, and scalp health. If you're ready to learn more, contact Shuly Wigs today!

"Taking care of your scalp while wearing a wig is essential for maintaining healthy and beautiful hair. Wearing wigs can add a boost of instant glamour and style, but can also be potentially damaging to your scalp if not properly cared for. Here are some tips to ensure that your wig is not causing damage to your scalp.
1. Always choose a wig made from natural, breathable fabrics like human hair or silk. Synthetic materials can cause skin irritation and prevent air circulation which can damage your scalp.
2. Make sure the wig fits properly and securely. An ill-fitting wig can cause tension around the hairline and pull at the scalp leading to damage.
3. When washing your wig it is essential to use a gentle shampoo and conditioner, as even natural fibers can be weakened by harsh products. Follow the washing instructions and don't wash too often as this can strip the scalp of its natural oils.
4. Before applying your wig it is important to thoroughly cleanse and exfoliate your scalp. This will help remove any dirt or product buildup which can clog the pores and cause scalp irritation.
5. Never brush your wig when dry as this can cause excessive breakage. If you need to detangle the fibers always use a wide-toothed comb when the wig is wet.
6. After every use make sure to allow the wig to air dry before storing it. Wet wigs can cause mold or mildew which can damage the fibers and irritate the scalp.
Taking care of your scalp while wearing a wig is simple when you know the right techniques. With a few simple steps, you can enjoy long-lasting, healthy hair. "