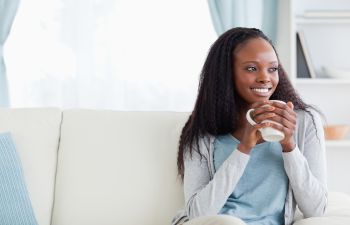 There are an infinite number of reasons why a person might choose to wear a wig, but there's one question they all must answer: human hair wig or synthetic? While it may seem like an insignificant detail, this can be one of the most important of your wig decisions.
What's the Difference Between Synthetic and Human Hair Wigs?
The obvious difference between these two types of wigs is that one is made of synthetic fibers and the other is made from natural human hair. While low-quality synthetic hair often looks and feels fake, high-quality synthetic hair can be all but indistinguishable from the real thing.
When you reach the upper tiers of synthetic hair wigs, it becomes important to consider your needs before weighing the pros and cons of each. You may be surprised by which option is best suited to your needs.
Human Hair Wigs: What You
Should

Know

It's hard to match the depth of color, softness and shine of real human hair, though many high-end synthetics come quite close. Human hair moves more naturally and can be styled like natural hair because it is real hair; but with that comes higher care responsibilities.

Maintaining a human hair wig requires more care, more attention and more time than you'd spend maintaining a great synthetic wig, but in return you can expect a longer overall lifespan. Because human hair wigs come in a wide variety of textures and can be color-treated, it's possible to match your natural color and texture with relative ease.

Just be ready to wash and deep condition your human hair wig almost as often as real hair and prepare for it to be affected by the weather. Just like your own hair would, a natural hair wig will become limp, frizzy or dry, depending on the weather conditions. Exposure to sunlight will fade or oxidize color-treated human hair wigs, and they often feel heavier than synthetic counterparts of similar style and length.
Synthetic Wigs 101
While synthetic fibers aren't identical to natural hair, some can come shockingly close. Forget about the glossy, unnatural shine of costume wigs; today's high-quality synthetic hair wigs really are a cut above. They're easy to care for thanks to natural style retention, which saves tremendous time and effort over human hair counterparts.
 No matter how terrible the weather, your synthetic wig will not react unpleasantly and overall maintenance is quite low. When it comes to colors, the sky really is the limit. From jewel-toned fashion hues to more natural shades, there's a synthetic wig out there in exactly the color you desire. Even higher quality synthetics tend to be a bit less expensive, which can translate to more versatility, as you're able to purchase more than one on a similar budget.
No matter how carefully you protect them or meticulous your maintenance routine, synthetic wigs just don't often last as long as human hair wigs. It's also not possible to straighten or curl most synthetic fibers safely. There are "heat-friendly" synthetic options on the market, but it's important to make sure yours is one of them before attempting a heat style. Also, the color you pick is the color you get for life; synthetic fibers can't be color-treated, as the chemicals can't adhere to or react with the imitation hair.
Choosing the Best Type of Wig for Your Unique Needs
No matter what you're looking for in a wig, it's important to understand it is possible to find your heart's desire. Whether your lifestyle is more suited to the versatility of a revolving array of synthetic wigs or you're more into the dependability of an ultra-believable human hair wig, Shuly Wigs can help. Call or contact Shuly Wigs today to learn more about all the ins and outs of choosing between synthetic and human fibers for your next wig.