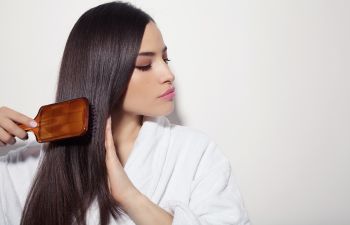 It is a great idea to have more than one wig. Should something unfortunate happen to your primary hairpiece, you may need a backup. You can also extend the life of your wig by alternating wigs. Besides that, with so many styles and colors to choose from, it is hard to choose only one. Let's face it, wigs can be fun. So, you need to take some care in storing the wigs you are not currently wearing.
Wigs lose their beautiful luster over time, so it pays to protect your investment by keeping your wigs properly. This will make them last longer and make you look better. Here is what you need to know to preserve the freshness of your wigs and keep you looking fantastic.
Clean Your Wig
It is important that wigs are put away clean when stored. Never put your wig away until it is completely dry. Dampness attracts mold and unpleasant smells. Comb or brush your wig out and spray the natural hair lightly with some conditioning spray to protect the fibers.
Direct Sunlight and Heat
Sunlight will dull the colors in your wig and excess heat will degrade the fibers.
The last thing you want is to take your beautiful wig out of storage only to find that it has a bleached-out area from direct sunlight or is shedding broken hair strands. For this reason, it is recommended that you find a clean, cool and dry closet to store your wigs.
Other Dangers to Wigs
Pets and small children are another reason to have wigs safely tucked away, or at least out of reach.
Hairnets
Quality hairnets in the appropriate size will help protect your wig's style. Gently put the hairnet over the wig hair to help preserve its style.
Storage
It is highly recommended that you rotate your wigs daily. Wig stands or mannequins are the best way to keep your wig's style and shape. Should you not have room for every wig to have its own mannequin or wig stand, it is important that you have a least one for the wig that you wear most often.
Containers
Another option to protect your wig is to keep it in the box that it came in. These boxes are designed to keep your wig in good shape, and can be easily stacked for a more compact storage choice.
Travel
Another container you should invest in for protection is a sturdy wig case and folding wig stand for travel. It may be one thing to get off a long plane ride looking a little crumpled, but you do not want your hair to be ruined by a tightly packed suitcase. Wigs are easily crushed, and hair tangled, if they are not carefully packed for travel. You should also consider bringing more than one wig on any trip, just in case something happens.
Folding
If you must fold your wig, fold it in half from ear to ear. Use some tissue paper to stuff in it to help it keep its shape and gently place it in a plastic bag to protect it.
Enjoy
You have spent time picking out and purchasing your Shuly Wigs. Your wigs are an investment in your overall personal presentation. Make sure you get the full enjoyment for a long time to come with just a little care.
Whenever you are ready to update your look, protect the life of your current wig or add to your collection of Shuly Wigs, please call us. We would love to help you look your best for every occasion.