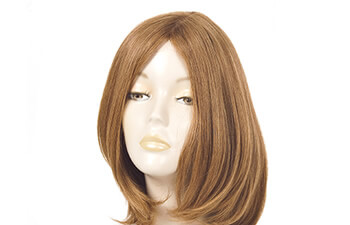 When you begin wearing wigs, synthetic or human hair, you will hear many terms you don't understand or aren't familiar with. To help you get acquainted with the world of wigs, here are some of the more common terms you may hear or see. If you get lost in a conversation about wigs, return to this post to refresh your mind.
Wig – a wig is a manmade hairpiece made of either synthetic fibers or human hair.
Synthetic Wig – a synthetic wig is composed of plastic or acrylic fibers formed into a particular style and color.
Human Hair Wig – a human hair wig is made from hair that has been removed from another person and put onto a cap, which covers the scalp. The hair may or may not include the hair's cuticle.
Cranial Prosthesis – a cranial prosthesis is a wig worn for medical purposes and is fitted directly to the client's head. Cranial Prosthesis is a medical term, as insurance may cover the costs of cranial prostheses necessary for medical reasons. Some medical reasons for needing a wig include alopecia, trichotillomania, chemotherapy and other medications or treatments.
Wig Cap – a wig cap is a small cap, often cotton, put over the scalp before a wig. Wig caps can add comfort if you have a bare, tender scalp. Wig caps are also used to hold your natural hair in place under the wig. In addition, the wig cap helps hold the hair wig in place and prevents slipping. The term wig cap is also used to refer to the base or foundation of a wig.
Weft – a weft is a small section of hair attached to a tiny piece of fabric. Wefted wigs are made from a cap of connected wefts in a grid-type formation. Wefts can be machine-tied or hand-tied. The wefts can also be used individually or in smaller groupings as hair extensions.
Monofilament – monofilament wigs do not have wefts of hair like a machine-made wig. Rather, a monofilament wig has a smooth inner cap of extremely fine mesh. One aspect that makes a monofilament natural looking is you can see the scalp through the monofilament. This directly adds to the hair looking natural. In addition, the hairs on a monofilament wig are individually tied into the material. This allows the hair to move freely and naturally and to be styled any way you choose.
Remi Human Hair – remi hair is unprocessed human hair that still has the cuticle attached. Remi hair lays smoothly and is shiny and soft.
Virgin Human Hair – virgin hair is completely unprocessed; it can be Remi hair or not.
European Human Hair – this hair is gathered from donors who are European in origin. European strands are very fine and are premium for many wig wearers. Other human hair in wigs comes from donors in Asia or South America.
Lace Front Wigs – lace front wigs have a small piece of lace sewn into the front of the wig. This lace in front is affixed to the head with cosmetic glue. The lace is ultra-fine and offers a natural hairline in the front of the wig.
Full Lace Wig – the full lace wig extends the lace back through the entirety of the cap. The hair is carefully knotted into the lace by hand, one strand at a time. This makes the wig extremely easy to style and wear. Full lace wigs are cooler than wefted or monofilament wigs and are excellent, particularly when the wig is worn because the wearer has no hair.
Density – the density of a wig is expressed as a percentage. It refers to the thinness or thickness of the hair.
The terms listed above are not all the terms you may hear when talking about wigs, but they are some of the most popular. In addition, the terms above are the ones you need to understand before purchasing a wig. At Shuly Wigs, you can make an appointment to learn more. At Shuly Wigs, we create beautiful human hair wigs of the highest quality. Please contact Shuly Wigs here.