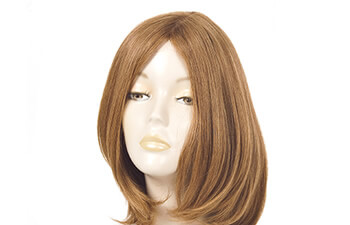 There are several reasons why an individual may opt to wear a wig, and at Shuly Wigs, we have a wide assortment from which to choose. It can be challenging to differentiate between human hair and synthetic wigs in some instances; and of course, with lower quality synthetics, the difference is obvious. Assuming you wish to purchase a high-quality wig, knowing the advantages and disadvantages of each can be helpful in making your decision.
Determining Your Needs
An important factor to consider when selecting a wig is why you want one. There are many reasons for choosing to wear a wig or hairpiece. For some individuals it is merely a matter of fashion; you may enjoy changing your hair style or color without needing to make a trip to the beauty salon and spend hours in the chair.
Some women wear wigs due to their religious culture. Orthodox Jewish women keep their head covered after marriage. Their natural hair is to be seen only by their husbands and female family members. These women could wear hats or scarves, and they often do; but wearing a wig is a popular option.
As we age, our hair has a tendency to thin out, and males and females can have pattern baldness. Some individuals may get a little sparse on top while others experience great hair loss after their 50s. A hairpiece or wig can do wonders in these situations.
Loss of hair is common among those who are going through treatment for cancer. It takes a lot to get used to the new look, and loss of hair can influence how you feel about yourself. Getting a wig to cover your head during this time can do a lot to restore your self-esteem and self-confidence if your hair loss is a concern.
There are also some medical conditions that can cause hair to fall out. There are also conditions in which a person's hair will not grow. Alopecia is such a condition. Wigs provide the option for you to have hair or not.
Once you determine why you need or desire a wig, then you can make a determination as to how large or small of an investment you would like to make. Synthetic wigs vary greatly in price and quality. Human hair wigs can be a major investment, but they also last longer.
Advantages of Human Hair Wigs
There are different types of human hair wigs. The hair can be harvested from various places around the globe. Most wigs are made from certain types of hair:
Chinese
Indonesian
Indian
European/Caucasian
South American
Human hair wigs provide qualities that are more challenging to maintain in synthetic hair. Human hair wigs look more natural because they are natural. These wigs have a softness and shine that is hard to match with synthetics. The hair also moves naturally. Your human hair wig can be styled, colored and cut to your specifications. It is important to properly maintain your human hair wig to keep it in good condition. With proper care, your human hair wig will have an extended life cycle.
Synthetic Wigs
While they may be less expensive than human hair wigs, they cannot easily be restyled or colored. Synthetic wigs are fine if you want a style that does not change. The curls, waves and volume of the wig are maintained because of the fibers used in the hair strands. In order to maintain a natural look, the synthetic wig must be cared for properly. Synthetics are good for quick changes, but overall, they may not last as long as human hair wigs.
Shuly Wigs offers exceptional quality in human hair wigs. We are known for our extensive selection of beautiful wigs in all colors and styles. If you are looking for a wig to provide natural beauty and long wear, contact Shuly wigs and schedule an appointment with us.