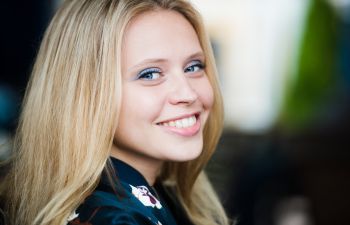 Ready to take this year by storm, really embodying the whole "new year, new you" concept? What better way than to overhaul your look than a brand new hairstyle? With a high-quality natural hair wig, you're able to score a dramatic change in no time flat. Whether you're just interested in adding a few surprise looks to your repertoire on occasion, want to create the illusion your natural hair is thicker and healthier or wear a wig every day of your life, quality is important. When your wig or hair enhancement fits properly and looks natural, you can be sure you're turning heads for all the right reasons.
What to Look for in a New Wig
It doesn't really matter why you choose to wear a wig, but the quality of the one you choose does matter tremendously. A bit of extra pre-purchase homework can mean the difference between a stunning and believable look or a costume-ish cut fresh from the pop-up Halloween store.
Before making a purchase decision, here are a few of the things you should ask yourself:
Do I want human hair wigs or synthetic ones?
Would I like to keep my overall hairstyle similar, or would I like to experiment with my look through my new wig?
What kind of wig cap do I want?
Once you've made basic construction decisions regarding wig caps and materials, it's time to really home in on your desired style. This is a chance to make a big splash with a dramatic wig that makes a statement or keep things as subtle as possible with a style that looks like an elevated version of the style you're rocking now.
When it comes to what you should be looking for in a new wig, a few are obvious, but many aren't. For instance, you know you should be seeking something that looks and feels like real hair, even if it's synthetic. Less obvious, however, are things like the life you can expect out of a particular wig. Synthetic hair can look and feel very much like human hair, but your styling options are immediately limited, and you can expect less wear from your synthetic wigs than natural ones. In addition, human hair is more durable and manageable than even the most luxurious synthetic fiber. Still, if you plan to cycle wigs out to keep your style fresh and you don't plan to rely on heat styling for your wigs, a great synthetic may fit your particular bill beautifully.
Finding the Perfect Fit
Ideally, your new wig will fit snugly to your head and look just like your own full, bouncy hair. However, depending on the wig cap style you prefer, fitting may require a bit of extra effort the very first time you wear your new wig.
Choosing a wig can be a little bit intimidating, whether it's your first rodeo or you're a veteran wig shopper. However, if you're wearing a wig over your own hair, pinning it in place can prevent slippage, itchiness and all-around discomfort once your wig cap is nestled securely over your hair. No hair to pin the cap to? No worries! It's no surprise people with little to no hair on their heads might be interested in wearing wigs, so specially designed tapes can work wonders. Wig tape provides a gentle but secure bond between the cap and your scalp, letting you dance through every weekend of the new year with confidence.
Not sure where to start looking for your new wig? Shuly Wigs is here to help. Call or come by the Brooklyn Shuly Wigs boutique to get started on your New Hair Resolution today!