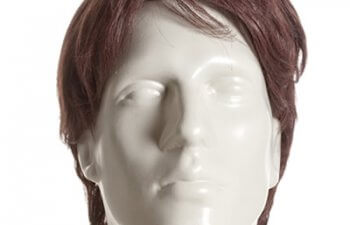 Wigs are great choices for virtually anyone looking for a low-commitment way to try out new hairstyles, to have fun with fashion and to change hair color with ease (and no damage to existing hair.) There are many reasons why people choose to wear wigs, but they're not quite the same as a medical wig, also known as a cranial prosthesis.
Why are Medical Wigs Called a Cranial Prosthesis?
The terms are interchangeable, but the meaning is the same; whether you call them "medical wigs" or "cranial prostheses," they are still quite different from traditional wigs. At first blush, the two have the same end result: creating the appearance of hair. For patients going through cancer treatment or those living with myriad health conditions, including alopecia and trichotillomania, there's more beneath the surface.
Medical wigs are designed to do more than just look like hair. These custom-made prosthetics are made from medical-grade materials and formed to the unique shape of each patient's head. These medical wigs restore hair and confidence, but they also function as a medical device.
Where traditional wigs are designed with caps intended to aid in fit and comfort, they are not designed to protect your scalp from the sun or to help regulate body temperature. This is an important function of hair, one which can be particularly important for those with compromised immune systems because of their health conditions or treatment.
A cranial prosthesis begins with a mold of your cranium to ensure a flawless fit. When they're created by experts in both traditional and medical wigs, they look and feel like natural hair, as well.
Because medical wigs protect patients from temperature dysregulation and scalp damage, many insurance companies provide full or partial coverage for a cranial prosthesis prescribed by a doctor. Your insurance company can give you information about potential reimbursement for cranial hair prosthesis devices. Helpful tip: the procedure codes are S8095 and A9282. Using these codes while speaking with your insurance company can help you learn more about if insurance coverage is a possibility.
Finding the Right Cranial Prosthesis Doesn't Have to be a Challenge
Medical wigs require expertise in not just medical device creation, but also in the art and science of crafting a natural-looking, high-quality wig. Patients living with health challenges that cause hair loss can struggle with confidence and self-esteem; uncomfortable, ill-fitting and unnatural looking wigs do little to help in this department.
Shuly Wigs is one of the most successful custom wig companies in New York, creating stunning looks for celebrity stylists, television and print media. Founder and visionary Shuly believes in catering to people looking for hair replacement for any reason, from any walk of life. Part of this vision means working to make the very best medical wigs available on the market today.
When you're managing health concerns which list hair loss as a symptom, you don't have time to search high and low for a high-quality cranial hair prosthesis. You need medical wigs you can rely on to keep you comfortable and confident, not one disappointment after another on a quest for the perfect fit.
Shuly Wigs is a medical wigs specialist, providing the ideal combination of science and artistry to ensure your cranial prosthesis is beautiful, comfortable and protective. These medical wigs can be styled just like natural hair, and give you back any confidence you may have lost on your medical journey. Ready to find out more about these spectacular cranial hair prosthesis devices? Call or contact Shuly Wigs today for an in-depth explanation of the difference between traditional and medical wigs, and all the ways the right cranial prosthesis can improve your quality of life.