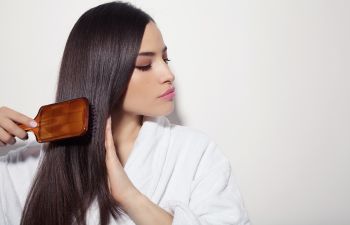 A high-end wig can be a game-changer for those living with health challenges that impact hair growth, or anyone with an appreciation for changing their look on a whim. Whether your wig is a medical device or a fashion statement, it matters to you and is a big investment. Protecting that investment helps you reap all the benefits of owning a finely made wig for years to come, and just makes good financial sense. Learning the basics of wig care is one of the most effective steps you can take toward extending the life of your investment.
Keep Them Clean – Whether you're switching out looks routinely or plan to store a wig for an extended period, it's vital to put them away clean and completely dry. The last thing you want is to store a still-damp wig, only to find it damaged and unpleasantly smelly when you're ready to wear it again.
Consider Your Storage Solutions – Because you may prefer one wig over another for certain situations, it's not uncommon to have two or more wigs in rotation. When you're not wearing one, the best storage option by far is a wig stand or mannequin. These help retain the style of the wig and the shape of the wig-cap, something that's particularly important for cranial prosthetic devices with specially-designed caps. If a wig stand is not available, the next best option is to fold gently from ear to ear, then use crumpled tissue paper to stuff inside the cap. This will help the wig retain its shape.
Wigs Need Sun Protection, too – For people who use cranial prosthetic devices due to hair loss know the sun can be a serious pain. Ironically, the medical device many patients turn to in order to protect their own scalp from the sun can also suffer if left in direct sunlight for too long. Just like anything else, even a great wig will fade and the fibers will degrade if they're left unprotected from UV rays in storage.
Invest in Hairnets – Hands down, the best way to store a wig is out of direct sunlight, on a wig stand or mannequin, with a hairnet gently securing the styled wig. Not only does this extend the life of styling; it also helps to prevent torn, split and damaged fibers.
Making Travel Arrangements – Just like you, your wig has some special considerations to keep in mind while making travel arrangements. If you're traveling with one wig on your head and another in your luggage, it is especially vital to protect the one packed in your luggage. Carrying two wigs is strongly recommended for travel in case of unforeseen emergency. The last thing you want, if you're reaching for your emergency back-up, is to find it isn't in wearable condition.
Keep Out of Reach of Children – It's no secret kids love to play dress-up, and there's just something extra attractive to them about a wig. While it may be a heartwarming moment that makes for a cute photo opportunity, letting a little one get their hands on your wig can have consequences. Pets can also be a risk, so it's a good policy to keep wigs you aren't wearing tucked away somewhere safe when there are children and pets to consider.
Keep the Box – The box your wigs arrive in are designed to keep them safe and looking their best in transit, so why not keep them? They're a tried-and-true method of transporting your wigs, one you know you can count on to protect your investment during storage or travel.
Choosing the perfect wig can be an intimidating process, but it doesn't have to be. The same is true for storage and travel solutions for your new wig. Shuly Wigs is a premier provider of both human-hair and synthetic fiber wigs, cranial prostheses and wig care products. Contact us today to learn everything you need to know about choosing, investing in, traveling with and storing your new wig.