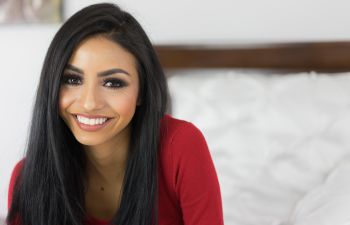 The look of full, healthy hair is one that most people seek. When you have thin, limp hair, you can use volumizers and other products to help your hair look fuller, or you can invest in a hair topper and create a completely stunning appearance.
The hair topper allows you the opportunity to enhance your hair without committing to a full wig. The hair topper has many names. It is also called a wiglet, top extension, enhancer or hairpiece. Unlike a full wig, the hair topper covers a portion of your head, but can add volumes in a small space.
If you have thinning or very fine hair, you may want to consider a hair topper to add volume to the hair you have. Toppers are easy to wear. They are held in place by clipping to your existing hair. A few minutes with a skilled stylist will make a big difference in your hair style when you choose a topper to fill out your thin spots.
The Advantages of Hair Toppers
Female pattern baldness is a hereditary condition that causes a woman's hair to thin out along the top of the head. When estrogen is lost during menopause, this condition can get worse. A hair topper can mask the balding area and blend in beautifully with your natural hair.
Hair toppers are often used by those undergoing chemotherapy when sections of hair loss leave balding spots. Toppers add fullness to existing hair and make the top of your head appear full without the bulk and weight of a full wig. Hair toppers are especially desirable during summer months and when visiting warmer climes.
A wig can look artificial, but a hair topper is created to blend in with existing hair. Your natural edges are visible. Adding a topper brings fullness to your existing hair while maintaining your natural look. Toppers also come with realistic-looking scalps, which hide the fact that you are wearing a hairpiece.
Human Hair Toppers
Hair toppers can be made from human hair or heat-resistant synthetic hair. The advantage of owning a human hair topper comes in the versatility of the piece. If you decide to change the color or style of your natural hair, you can also change your human hair topper to match. Synthetic toppers can look natural also; however, they lack the adaptability of human hair.
The only downside to owning a human hair topper is upkeep. Human hair requires washing and styling. These hairpieces are also subject to the weather and will react as human hair does during times of precipitation. With that being said, the natural finish of human hair toppers is worth the extra effort for most individuals.
Hair Toppers on Bald Heads
When you have complete hair loss, it may seem that a topper will not work for you. There is no hair to which it can be clipped. A full wig may seem the better choice, and that may be the case. Keep in mind, though, that some individuals have gotten creative with wearing toppers despite full hair loss.
Full head hair pieces can be used as an alternative to a wig. A hair band is used to hold the hairpiece in place. Some individuals use a turban, hat or scarf with their topper and the effect is a natural-looking head of hair.
Add Volume Where You Need It
Hair toppers are made to cover specific areas of the head. Your topper can provide coverage for the top of your head or you can get one that is used on the sides or back of your head. Your stylist can help you decide which type of hair topper will give you the best coverage.
At Shuly Wigs, our stylists will work with you to ensure that the look you desire is the look you achieve. Contact us today to schedule an appointment with one of our stylists and discover how full your thinning hair can look.