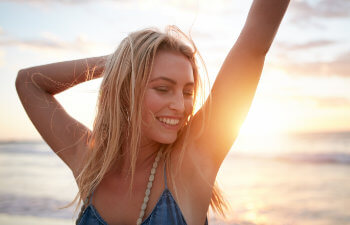 Wearing a wig can be challenging, whether you're covering natural hair for fashion or to conceal hair loss. The extra layer of hair can leave you hot and sweaty with an uncomfortable scalp, and sweat can sometimes make it difficult to keep your wig in place properly. Fortunately, there are steps you can take to stay cool, comfortable and fabulous while wearing a wig in the summer.
Choose the Right Wig Cap – The first and arguably most important step to keeping cool in the heat while wearing a wig is to choose the right

 

wig cap. A good wig cap will be constructed from breathable fabric that fits snugly, but not so tightly it causes discomfort.
Use a No-Sweat Wig Liner – A no-sweat wig liner is a great way to keep your scalp comfortable and dry under your wig. They're made of materials that absorb moisture and help prevent your wig from sticking to your scalp and causing discomfort.
Mind Your Wig Maintenance – It's crucial to take good care of your wigs for many reasons, not least of which is simply to protect your investment. In the summer, though, it's particularly important to keep your wig clean and maintained. Dirt, oil and sweat can build up on your wig, causing it to feel hot and uncomfortable.
Take Breaks When You Can – It's not always feasible to take a break from wig-wearing, especially when you're out and about. Still, it's a good idea to take a breather when you can on particularly hot days, especially if you have health conditions that leave you prone to overheating or sensitive to its effects.
Invest in Scalp Care – Heat can be a major contributing factor to discomfort while wearing a wig, but it's exacerbated if your scalp is already irritated, inflamed or otherwise unhappy. Scalp care products, and some dedicated TLC, can go a long way towards preventing the worst of summer wig stress. Hydrating your scalp and preventing dandruff means less itching and irritation and should be a priority year-round but is especially important during the hottest months of the year.
General Tips for Wearing a Wig in Hot Weather
Caring for your scalp, choosing wig caps and liners carefully and maintaining your wig are all important, but they're not the only tools in your arsenal when it comes to beating the heat.
Stay hydrated by drinking plenty of fluids.
Minimize strenuous activity in the heat.
Wear loose-fitting clothing made from cool, breathable fabrics.
Take breaks in the shade when you're outdoors.
Use fans and air conditioners to keep you cool indoors.
Let your scalp breathe when you can. Even if it's just a few moments in the privacy of a restroom, if you feel dangerously hot, it's essential to give your scalp, and your body as a whole, a short break.
How the Right Wig Can Make All the Difference
Even if you do everything else to the letter, choosing the wrong wig can make it almost impossible to be comfortable in any situation, but especially serious heat. This is why it's so important to work closely with knowledgeable and experienced professionals while making your selection. Shuly Wigs New York is the go-to purveyor of high-end wigs in NYC, with products appearing on screens, runways and print campaigns. When you're looking for a custom-tailored wig that's perfect for not just your aesthetic but also your comfort, Shuly Wigs New York can help. No matter what color, style or texture you're looking for, they have you covered in every sense of the word. Call or contact today to find out more about high-end wigs, the tips and tricks for wearing them comfortably and getting an absolutely perfect fit through custom tailoring. With the right wig, you can look effortlessly cool and put together in almost any conditions.

In the midst of the hot summer days, wearing a wig can be a daunting task. With temperatures soaring, maintaining a cool head while wearing a wig can seem like an impossible feat. But if you follow the right tips, you can make wearing a wig during the summer a breeze – even when the humidity is thick.
The first tip for beating the heat in a wig is to invest in a breathable wig cap. These caps are designed to wick away sweat and moisture while keeping your hair and scalp cool. Additionally, you should be sure to wear a cotton wig cap underneath your synthetic or human hair wig, as this will help to keep the air flowing around your head.
You should also be sure to never wear your wig to bed. Sleeping in a wig can cause excessive sweating and heat to build up, leading to discomfort. Taking off your wig before bed is also important to give your scalp some breathing room.
If you're worried about keeping your wig looking perfect in the heat, you can also try using a spritz of setting spray to hold your hair in place. This will help to provide a light, refreshing scent and prevent your hair from being weighed down with sweat or humidity.
Finally, be sure to take regular breaks and keep hydrated. Sweat and body heat combined with a wig can easily cause the temperature to rise, so taking a few minutes out of every few hours to remove your wig and rest your scalp is key for keeping cool. Drinking plenty of water and electrolytes is also important for keeping your body cool and preventing overheating.
Following these tips can help to keep you cool while wearing a wig this summer. With a breathable wig cap, light setting spray and regular breaks and hydration, you can keep your cool and your wig looking perfect.