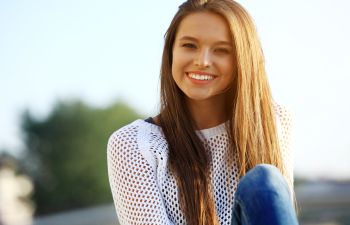 Summer is almost over and the scent of fall is in the air. Now is the time that people start packing away their summer clothes and digging out winter wear. It is the season of change. So why not consider changing your hairstyle? If you have been wearing a summer hairstyle to keep cool, you may want to consider changing it for a more substantial look.
Trending Styles
There are many different styles trending for the remainder of 2021 and coming into 2022. With a natural hair wig from Shuly Wigs, you can stay on trend no matter which direction you choose to take.
One of the styles that remains popular is the "lob" or long bob. This style bob hits just below the neck by the collarbone. It is a perfect look for fall. Straight or curly, the lob can be flirty or very professional-looking.
The traditional bob is also in fashion. Classically smooth and face-framing, the bob is an iconic look that remains strong. The bob can be customized to your unique style: blunt, choppy or slightly elevated, long or short, it is a look that is always in style.
Long layered looks are also fashionable this season. One of the advantages to layering is that it adds volume. It is also appropriate for all face shapes. Our stylists will ensure that your wig has a beautifully layered look without the choppy appearance some haircuts produce.
Similar to the layered look is the modern shag. A little bit flyaway and a little bit easygoing, the shag is a relaxed style that fits the active woman on the go. The shag can look good whether you opt for a shorter cut or longer look.
Believe it or not, top stylists say that some of the old styles of the 70s and 80s are back. Never thought you would see the mullet again? It is being touted as a trend for 2021-2022. Shorter at the front and sides and longer in the back, the mullet takes on a new look for this millennium. Here is a bit of mullet trivia: It is believed that the mullet may be traceable from Native Americans. Indigenous people often wore their hair short in front and kept the back hair long as a show of spiritual strength.
Curtain bangs are also on trend right now. These bangs add a feminine, alluring look to most face types. Another advantage of curtain bangs is that they work well with most hairstyles, from a sleek updo to a ponytail or messy bun, the curtain bang adds a special look.
Big hair is also back. Yes, that head full of curly curls, long and luxurious waves and all the volume you could wish for is back in fashion. Add large hair accessories to complete the look.
The Versatility of a Natural Hair Wig
One of the major advantages of a natural hair wig is the ability to change styles whenever you like. Because it is natural hair, these wigs can be styled in numerous ways. They can also be colored to your specifications.
Your style can look totally natural with a lace front wig. This type of wig allows you to change styles while avoiding the wig look. Whether you are growing your hair out, wearing a wig for medical or religious reasons or just because, your natural hair wig gives you the option to change your style and texture anytime, so you can rock whatever look appeals to you.
Shuly Wigs provides a wide range of wigs to choose from, and stylists to help you achieve just the look you want. Contact us today to schedule a time to consult with one of our stylists, so you can choose the trend that best suits your tastes.