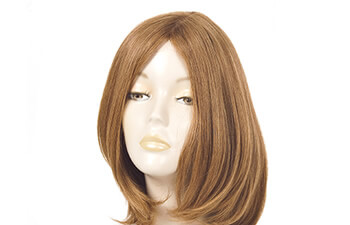 How much do you know about wig caps? For those who have not explored the world of wigs, you may have little or no knowledge about them. The wig cap is the wig's foundation and mimics the shape of the head. There are four basic types of wig caps:
Capless (basic)
Lace front
Hand-tied
Monofilament
We are going to look at each type, so you will have a better idea of the kind that will best meet your needs when you decide to buy a wig.
Basic Wig Cap, Capless
The basic wig cap goes by several names. It is also called the capless, wefted or open-cap. This type is made by machine. Hair strands are woven together to create a "weft," which is then sewn onto a thin elastic material. The wefts are hidden by "permatease." This is a technique used to prevent the weft from showing in the area of a part. Because the cap itself is so thin, this is the coolest type of wig cap. Spaces between the wefts allow for air flow, which keeps your scalp cool.
Lace Front
Perhaps you have heard people talking about lace front wigs. You may pay extra for this type due to the hand-tied hairs in the lace material. The big advantage with this type of wig is the illusion of a natural hairline that makes off-the-face styles possible. Many women prefer the natural look the lace front provides.
Hand-Tied
These wigs are truly an investment in luxury. Hair strands are individually tied onto a soft material by hand. A hand-tied wig is the most comfortable for wearing, and the hair looks and moves like natural hair. The wig caps provide a four-way stretch, which feels less like a wig and more like a headscarf. If you have a sensitive scalp, you may want to invest in a hand-tied wig.
Monofilament
Similar to the lace front wig, the monofilament cap is also hand-tied. This can be done in the area of the part, the crown or the top of the wig. These wigs mimic hair growth from the scalp, allowing for a more natural look. A full monofilament top will be the warmest option in styles, so if overheating is a concern, you may want to avoid this type of wig.
You may have more questions as you explore wig options. Contact Shuly Wigs, and set up an appointment with one of our professional stylists. We will be happy to answer all your questions and show you our line of Shuly wigs.